A brief snooze after an exciting and fun week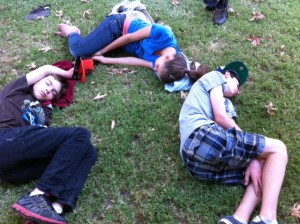 The Onlies are now back in Seattle, after a whirlwind of a great time at Valley of the Moon, and a sublime siesta on the beautiful campus of San Jose State University.
The kids learned lots of tunes that they will start incorporating into upcoming sets. First up: busking at the Redmond Saturday Market from 10 a.m. to noon Sept. 10, and a performance later that day at the Northgate Festival, 3 p.m. Catch them if you can!