The Onlies play original and traditional fiddle-driven music, with Celtic, old-time American, and Canadian roots. Members Leo Shannon, Riley Calcagno, and Sami Braman are Garfield High School (Seattle) seniors who've literally played together since they were two years old. Singing and playing fiddle, guitar, mandolin, banjo, and piano, they have developed a strong fan base throughout the Pacific Northwest, performing concerts, dances, restaurants, and pubs from Port Townsend to Boston. They've had opportunities to perform alongside Darol Anger, Elvis Costello, Kristin Andreassen, Tristan and Tashina Clarridge, Brittany Haas, Altan, and many of their countless other musical heroes. For dances and other projects, they are frequently joined by the their friend RuthMabel Boytz on string bass.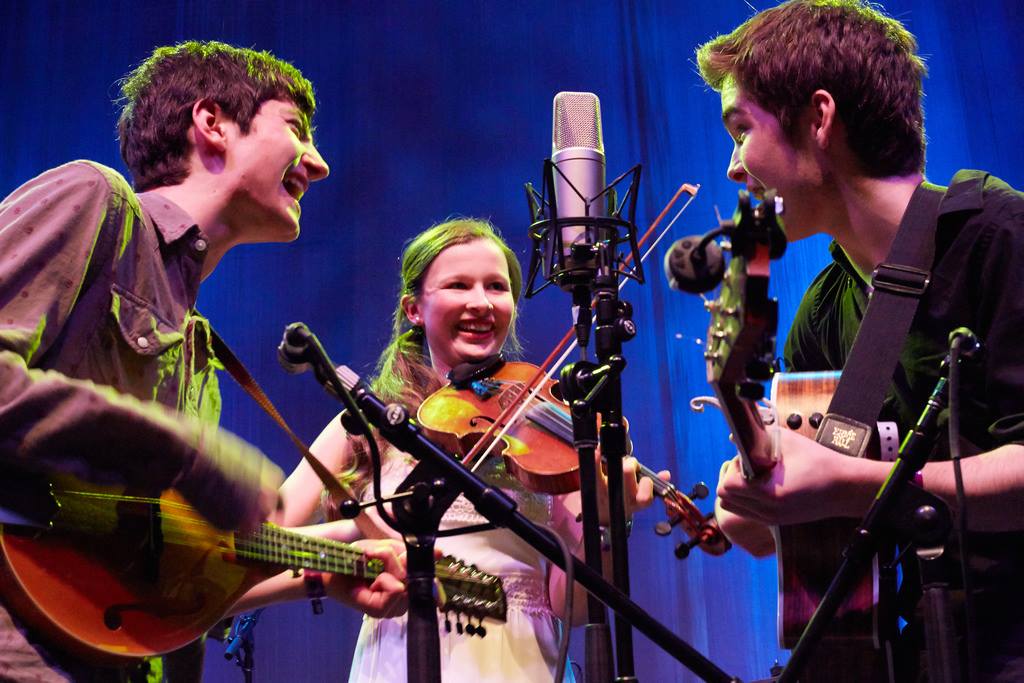 Photo: The Onlies in EMP Sound Off! 2014 by Malayka Gormally  - malaykagormally.com/photography
in their own words...
We hail from Seattle, playing gigs in places such as the Town Hall, Hale's Palladium, Moisture Festival, ACT Theater,  The Royal Room, The Moore Theater, The Paramount, Northwest Folklife, and many other venues.
We sing original songs, play several different kinds of traditional fiddle music, write our own tunes, put new spins on tunes that need spinning, and keep it trad when the tune is fine on its own.
We have been a band since we were all were very young and although we all know each other's moods and moves, there is no doubt in our minds that we will keep playing together long into the future.
In April 2015 we released our second full-length album, "Long Before Light." The CD features 15 original and traditional songs portraying each of our personal strengths and passions and weaving them together to form a warm, joyful sound that reminds us of fiddle camps over the summer. We released our first LP in 2013, "Setting Out To Sea," and an EP in 2011, "The Day That Never Was."
And a little more from each of the band members:
LEO: (Me.) I *officially* entered the musical world about 11 years ago, but I have been attending the square dances down the street and folk music festivals since, really, before I was born.
A lot of my musical direction and influence has come from Irish musicians, both past and present; Dale Russ (my wonderful teacher), Liz Carroll, Kevin Burke, Martin Hayes, Paddy Glackin, along with the incredible old recordings of Michael Coleman, Bobby Casey, James Morrison, Paddy Killoran, and many more. Lately, though, old time music (and other styles as well) have been equally prominent in my musicality, and I have been learning from the music of contemporary players like Bruce Molsky, Rushad Eggleston, and Brittany Haas, as well as older recordings of Ed Haley, John Salyer, and the like.  And, of course, on a slightly different side of the musical world, John Darnielle, Colin Meloy, and Aiofe O'Donovan all have big influences on my songwriting. Yay for them. I also, as you may or may not have noticed, play guitar. Influences there come from Ryan Hoffman (my, again wonderful, teacher), John Doyle, and Django Reinhart. That's enough of that, though.
Because Riley and Sami did this, I feel like I should say that most of my free time is spent reading, writing, playing music, or watching Hank and John Green's incredible video blogs.
That is all.
RILEY: I've been going to concerts, falling asleep in the back of square dances, and going to shows of friends and family since before I can remember. Obviously music is a huge part of my life!
Some fiddle inspirations of mine are Sammy Lind of Foghorn Stringband, Tommy Jarrell, Ron Kane, Bruce Molsky, Brittany Haas, Chance McCoy, Alasdair Fraser, Lauren Rioux, Rhys Jones, Darol Anger, Liz Carroll, Stephen Grappelli, and of course many others. My songwriting and singing idols are John Darnielle of the Mountain Goats, Colin Meloy of the Decemberists, Aiofe O'Donovan of Crooked Still, Bob Dylan, Johnny Cash, and many others. Other musical influences are Django Reinhart, Rushad Eggelston, Natalie Haas, John Doyle, and Itzak Perlman and (of course) many more.
In my free time, I enjoy reading, writing, noodling on instruments, listening to my favorite podcast Too Beautiful To Live, watching an internet vlog called vlogbrothers, having a quiet day at home with my family, jamming, listening to lots of varieties of music from traditional to indie folk to indie rock to classical to terrible pop music. I take lessons for classical violin from Marjorie Talvi, and guitar from Ryan Hoffman.
SAMI:  I'm Sami, and I've been playing with Leo and Riley since we met each other in preschool those many years ago. I've known them as long as I can remember--and since we're Onlies, I'd call them my "brothers from other mothers." In my free time, I love to dance, write, play soccer, run, hang out with friends and family, eat delicious foods, and play fiddle. I take lessons with Ruthie Dornfeld who's taught me everything from Brazilian Choros and Bach Partitas to Cape Breton strathspeys and driving old-timey tunes. I've also been playing guitar for a few years now and enjoy plunking on it occasionally when I have time to practice. I play in the Garfield High School Symphony Orchestra and have been exploring both classical and jazz music for some time now. Teaching music is another passion of mine and I've been exploring that recently through fiddle camps, lessons, and tutoring. I love jamming all different styles of traditional fiddle music, especially Cape Breton sets and driving Old-Time tunes.
My musical inspirations are: Brittany Haas, Natalie MacMaster, Natalie Haas, Alasdair Fraser, Bruce Molsky, Rhys Jones, Liz Carroll, Darol Anger, Colin Grant, Antti Jarvela, Mairead Ni Mhaoniagh, Edgar Meyer, Bela Fleck, Stewart Duncan, Tim O'brien, John Hartford, Dirk Powell, Rushad Eggleston, Aoife O'Donovan, Kristin Andreassen, Crooked Still, The Bee Eaters, Evie Ladin, Andrea Beaton, Laurie Lewis, Tom Rozum, De Temps Antan, Hanneke Cassel, Ruthie Dornfeld, Nickel Creek, Sarah Jarosz, Vassar Clements, Tommy Jarrell, The McKassons, Genticorum, Väsen, Nightengale, Troy McGillivray, Ed Haley, Tatiana Hargreaves, Tchaikovsky, Dvorak, The Wailin' Jennys, Shostakovich, Patty Griffin, Beolach, the list goes on and on and after I post this I am going to think of many more that I forgot!