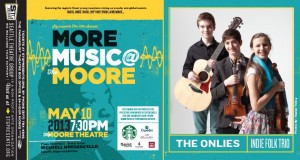 We're stoked, and hope you can come along for this cool ride: The Onlies have been honored to participate in More Music at the Moore, an artist development program for selected young musicians representing diverse music genres, resulting in a way-cool concert at 7:30 p.m. May 10 at the Moore Theatre in downtown Seattle. (Buy tickets here!)
The program provides young artists training and rehearsal time with professional musicians, production and promotional support, and the opportunity to perform at a professional venue, The Moore Theatre. Artists are selected through an audition process.
The event is produced by Seattle Theater Group, which has hired Meshell Ndegeocello as the Music Director of the 12th annual event. A fearsome bassist and prolific songwriter, Ndegeocello has been nominated for 10 Grammy Awards, released 10 studio albums, and remains one of few women who writes her own music and leads her band. Ndegeocello will join the stage for one collaborative number with the young artists.
Other participants in the show include:
We're excited to play with the folks above, learn and play from Meshell Ndegeocello, and to do it all with you in the house!