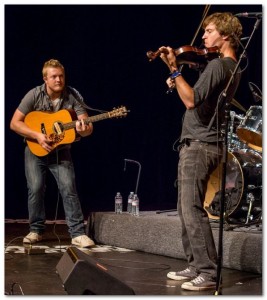 House concert! House concert! Our favorite place to play. And at a way cool house in Madrona, too (thank you, Gretl!).We're super excited to introduce Colin Cotter and Ethan Lewis of A Thousand Years At Sea to you. We'll be playing an evening of music with them, each on our own and perhaps we'll even mix it up a bit. Ethan and Colin are fiddlers, guitarists, singers, and songwriters who deliver high-energy performances of heartfelt songs, rocking tunes, and virtuosic mad skills (with an emphasis on 'mad' -- do come just for that!). Their ever-evolving exploration of contemporary American songwriting and the living-tradition of Celtic music has created a new sound that stays true to the band's roots in folk music, integrating Celtic, rock, Americana, and instrumental improvisation into, as the Sacramento News Review wrote, "something sweet and subtle." And yes, they're coming all the way up from California: We're lucky enough to hang and play music with them at a fiddle camp down there every year. Please come!
Doors open at 7 for pre-concert treats (snacks and beverages), and music starts at 7:30 p.m. Suggested donation is $10 to $15, though if you're hurting for cash, just come as you are!
RSVP to info@theOnlies.com, so we'll know how much snack-a-liciousness to prepare!
See you there!