Northwest Folklife: Here we come!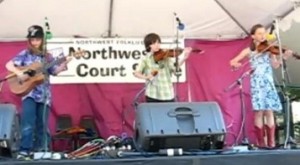 Scribble and scratch this one into your calendars: 5:40 p.m. Friday, May 27, Northwest Court Stage, Seattle Center. It'll be our third time on that stage, and we're hoping for a big turnout -- please come! (Forward any interested friends a link to this page, or the Facebook link.)
We'll be playing all new material, including several new tunes we've composed. And--since many of you have asked for one--we're hoping to put the finishing touches on a CD that's good enough to distribute. The price won't be too high, we promise: Just enough to pay for production and a little extra to help us pay for fiddle camp.
On Saturday (and possibly Monday and Tuesday), you can see a bit more of us. We'll likely be busking if we can find a spot to lay our fiddle cases down. Riley will also be playing old-time tunes with his dad, Johnny, at 7 p.m. Saturday, also on the Northwest Court Stage. The bummer of scheduling is that Sami (and her dad, too) will be playing with the Northwest Scottish Fiddlers at nearly the same time, 7:30 p.m. in the Center House Theater. We hope that doesn't put you in a Sophie's Choice state of mind...
See you Friday!
P.S. That picture? It's from two years ago, when we first played NW Folklife, same stage. The gig was actually scheduled at around 2 p.m., so we had to skip out of school. Don't tell anyone, but some of our friends skipped, too!