First stop: Portland!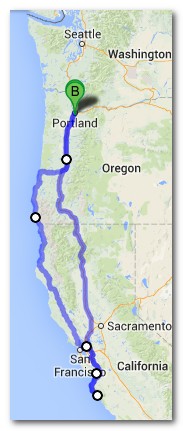 Well, we're getting close. Packing, planning, renting a van, all that stuff before a road trip. Our dads Johnny and Tom will be our chauffeurs, roadies, and merch sales staff, but they won't be our sugar daddies: We're actually paying for most of the trip--and the destination fiddle camp--through money we've made at gigs and other performances. Wahoo -- does that make us professional musicians?
Anyway, our itinerary includes five West Coast stops, and if you can't attend any of them, well, at least make sure your friends do! Portland is our first stop on Tuesday (Aug. 20), for a 7:30 p.m. house concert at our friend Etienne's. Then on Wednesday (Aug. 21), amid the redwoods of Northern California, we'll do a second house concert chez another friend, Jennifer MacKey, a fiddler and artist who lives in Rio Dell, Calif., just south of Arcata. That one starts at 8 p.m. On Thursday (Aug. 22), we'll do a third house concert in as many days, this one at 7:30 p.m. in North Berkeley, with Brad and Lisa Gallien.
Then we spend a week at Alasdair Fraser's Valley of the Moon Fiddle School, after which we play a contra dance in Palo Alto (8 p.m. Saturday, Aug. 31) and, the next day, a pub gig at Cottage Grove's Axe & Fiddle (7:00 p.m. Sept. 1).
Whew. And we hope to pack in a few college visits too.
Details on the dance locations, prices, and so forth will be found on our calendar page!