Come join us from 1:40 to 2:15 p.m. Saturday May 24 at the Fisher Green Stage, as we participate again at
Northwest Folklife
, the great-grandpappy of all Northwest folk events. This year, we'll debut a few new songs and tunes, and play some of our oldies but goodies.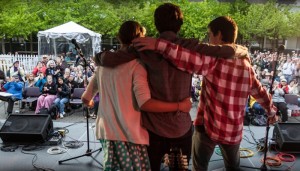 Definitely check out all the other great acts over the weekend, from
Friday through Monday
. While our show takes place on Satur
day, Sami plays some Cape Breton and old-timey tunes for dancers on Friday (4:30 p.m., International Dance Stage), Riley plays with his dad on Sunday (6 p.m., Trad Stage), and we all join Paul Anastasio & Fire of Tierra Caliente for some heated Mexican string music on Monday (12:30 p.m., Fisher Green Stage).
See you there, and come say hi!