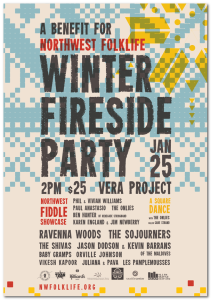 Tomorrow, along with a slew o' stellar Seattle musos, we will brandish our fiddles, geetars, and such and play more than a few notes at the Winter Fireside Party, a hells-a-fire fundraiser for Northwest Folklife starting at 2 p.m. at Seattle Center. We'll play a concert AND a square dance (yes, we're giving our fingers a day of rest today), and count ourselves fortunate to play in a showcase alongside the likes of Phil and Vivian Williams, Paul Anastasio, and others. Concerts follow with Orville Williams, Ravenna Woods, The Sojourners, The Shivas, dang, even that most teenagerly of Northwest folk stars, Baby Gramps. Our elbows will be looking out for some good rubbing.
The square dance starts at 2 p.m., with Gabe Strand calling. Then at 4 p.m., we'll be part of the Northwest Fiddlers' Showcase.
Warning: The sticker shock is $25, but if you consider it's for a great, great cause, you'll probably just want to buy two tickets for yourself, or bring a friend. Do, and say high to us, dance a do-si-do, and if you've got an instrument, bring it to: There'll be jams galore.
All the deets are here.