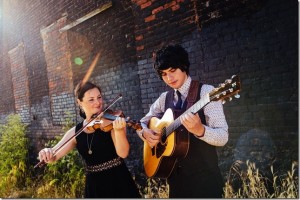 In what is likely to be our last Seattle show for months, we have a sweet concert this week that has us sharing a bill with the dazzling B.C. brother/sister guitar/fiddle duo, Qristina and Quinn Bachand. The concert will be at Seattle's most audience- and musician-friendly venue - the Royal Room in Columbia City, 7:30 p.m. Tuesday, June 16.
We can't recommend Q&Q enough - they've got amazing chops in a variety of styles, including Celtic, Classical, and Gypsy Jazz. They sing too! It should be an electrifying show start to finish.
Keep up with the details on the event's Facebook page.